Welcome to the Wilford Woodruff AI Learning Experience!
Brought to you by the Wilford Woodruff Papers Foundation and LIVINGHISTORY.ai
Please read these instructions, then register below to download the AI experience software.
In this AI-powered experience, you have the opportunity to virtually walk into President Woodruff's Nauvoo home and converse with his character. Ask him anything you like! This experience can be fun, historical, and spiritual depending upon the questions you ask. If you would like a few suggested topics click HERE.
This experience is built upon the Wilford Woodruff Papers database to support learning and exploration of these inspiring historical records. However, this first version contains only a small portion of the Wilford Woodruff Papers database. Please be patient as some answers may be incorrect or incomplete.
We want to hear about YOUR experience! Afterwards, please share your feedback HERE because it is important and will help direct how this technology is used with Church content in the future. We also hope you capture a vision for the future and the use of AI to connect with our ancestors and bringing history to life.

How can AI impact the future of gospel study?

How can AI allow the rising generation, those with disabilities, and seniors to more easily connect to and with Church content?
Would you like to see AI used in other ways? What are some of your ideas and suggestions?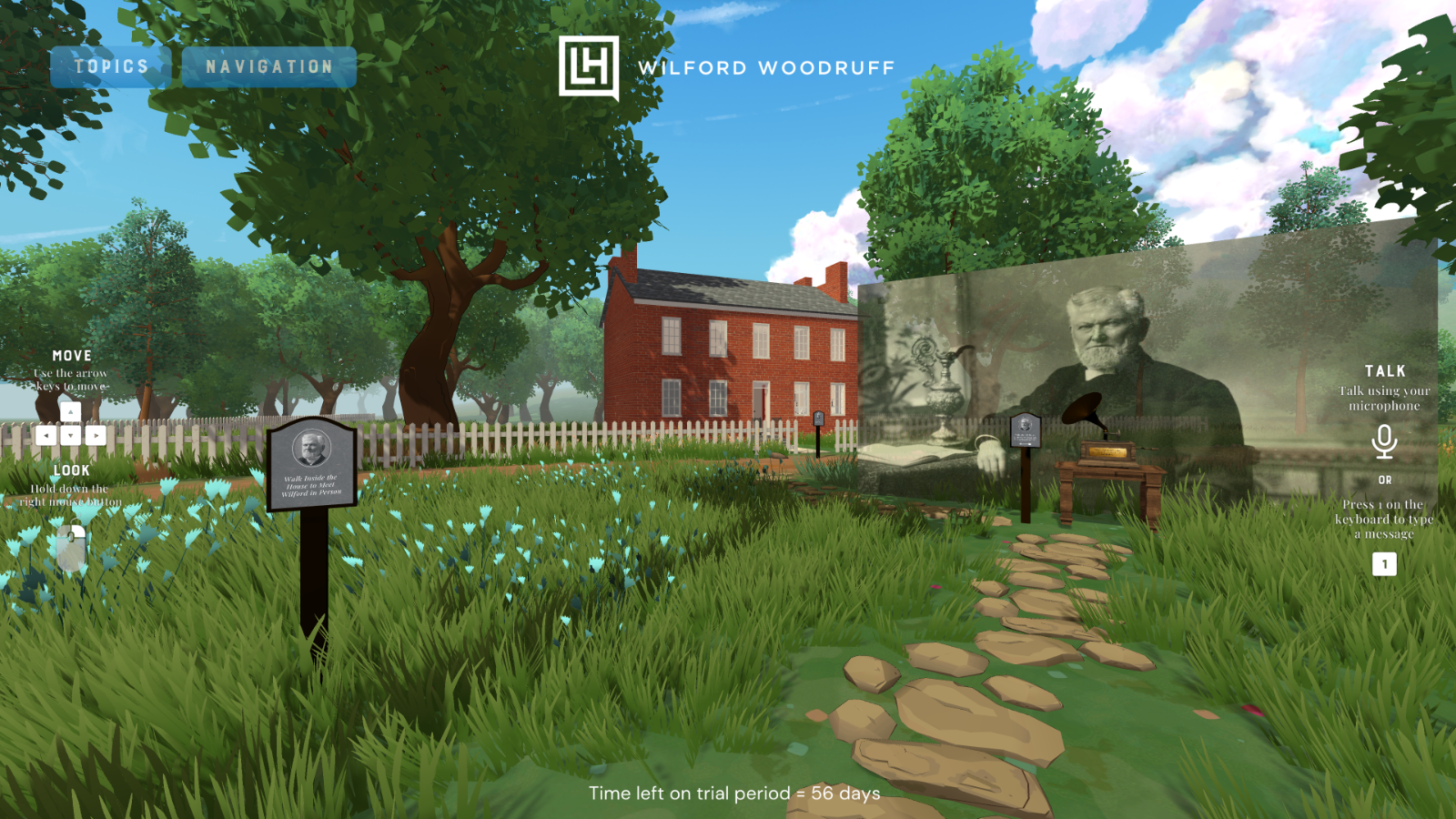 Register to download the AI learning experience.
*This experience is Windows-based. Please use a PC or Mac running Windows.
Note: The AI vendors currently support only the Windows operating system. If you are a Mac user and do not have access to Windows, here are some options for you:
Download the experience with a family member or friend that has Windows and share the experience.
Install Windows on your Mac with Boot Camp Assistant which creates a Windows partition.
If you do not have access to a Windows operating system and would still like to participate in the experience, then watch this video and send us any questions you would like us to ask the Wilford Woodruff character. We will consolidate questions and create a video of us asking the most common questions. Please submit any questions you'd like to ask Wilford Woodruff using this form.

The Wilford Woodruff Papers Foundation is a private non-profit organization independent of The Church of Jesus Christ of Latter-day Saints and any other organization or institution.